"Recently my Windows 10 brand new PC I bought on BestBuy got infected with the stubborn malware that randomly generated unsolicited pop-ups to tons of websites I never intended to visit. I could never expect that simply downloading the Winamp player through its non-official website could bring a lot of other programs I never intended to install."
Loaris – Why did I need it?
The short story of how I realized that my computer is infected
Frankly speaking, I did not pay much attention during the Winamp setup process. I have a collection of audio files I like to listen to once I get home from work. When I bought my new PC, I copied all the files to my new machine, but, honestly, I was not satisfied with what Windows Media Player could offer me.
So I decided to go online and download the popular and free software for playing mp3 files. While installing Winamp, I quickly proceeded through all the steps, and then, finally, the player was installed, and I was soon enjoying listening to my favorite music outdoors in my yard.
Next morning, while reading the email from my friends, I suddenly noticed a strange pop-up saying that my Windows computer is infected with some E.tre456_worm_windows virus. I googled the problem and found out that this was a scam, so I ignored the alert.
However, the pop-up kept bothering me periodically, and I was very distracted by it. Several of these alerts could pop up, randomly attacking my screen and producing the scary beep.
I additionally noticed that my browser acted in a very unusual way since all my search queries got redirected through Bing instead of Google Search. Plus, I saw many ads and sudden pop-ups leading to filthy websites, for example, dating, gambling, adult games, and so on.
I realized that something wrong was going on with my computer. I could never imagine that my brand new PC would be messed so much simply because of downloading the Winamp mp3 player through its non-official page.
I am not technically savvy when it comes to removing computer viruses. I thought my current security software was sufficient to prevent any malware attack, but it failed to do that. My browser's continuous suspicious behavior brought me to the thought that some Trojan horse on my PCs makes it work this way.
Looking for the information on Google about removing Trojans game me several links, one of them was recommending Loaris Trojan Remover.
To be honest, I never heard of this program, but the research of the application on some forums finally convinced me to give it a try.
So, I downloaded Loaris Trojan Remover and installed the program:
Loaris Trojan Remover
Overview of Loaris product: first look, scan types, tools, settings.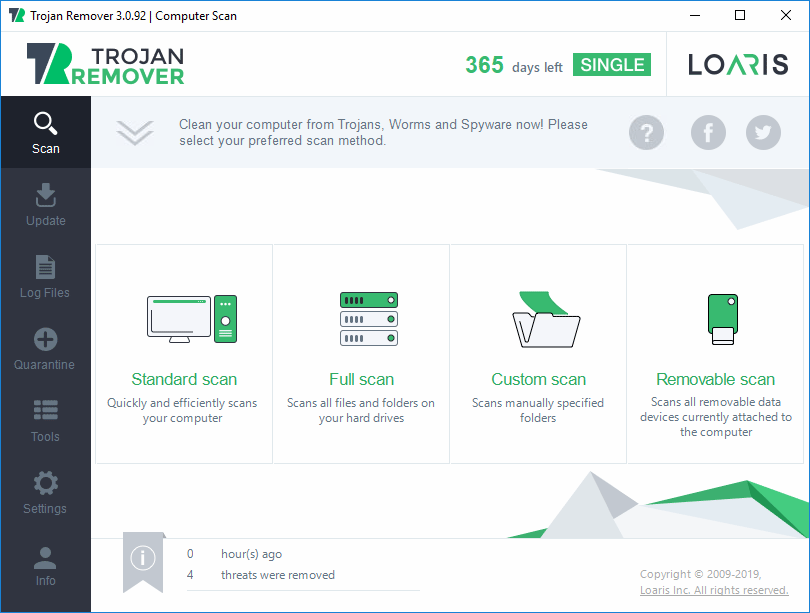 There were 4 scan types suggested:
Standard Scan.
Full Scan.
Custom Scan.
Removable Scan.
I decided that considering the status of my PC, a full scan is preferable. As soon as this option was chosen, Loaris updated its anti-virus database and soon began scanning my system.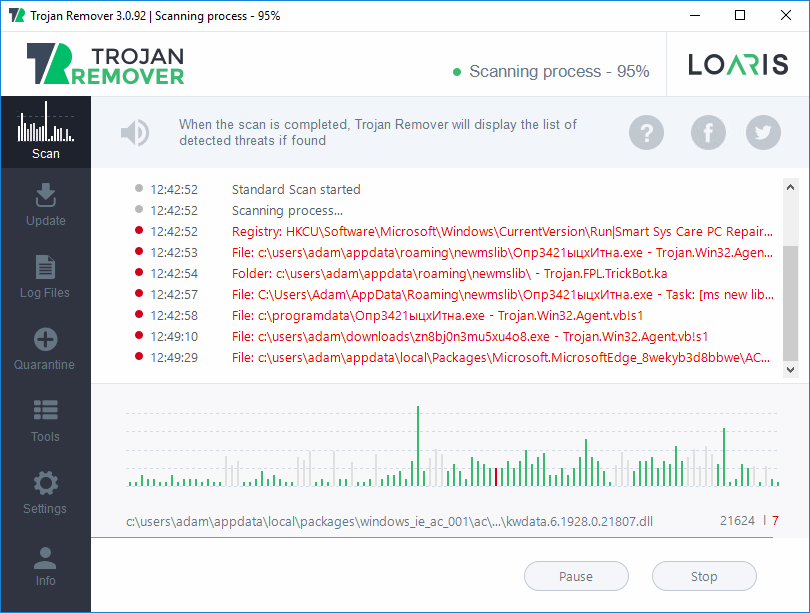 I was honestly very shocked when viruses were found. By the end of the scan, the number of threats amounted to 8 items. There were options to move the files to quarantine, ignore or delete them.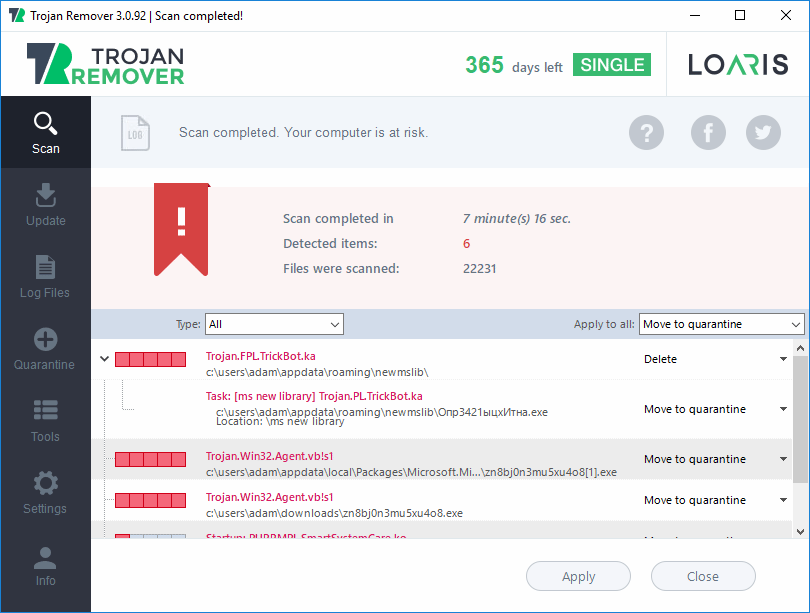 Well, I made my choice to get rid of the threats because they were all marked with the red color. I assumed this meant those were hazardous viruses.
I was surprised to know that I need to pay for the licensed version of the program. However, I also could start a 14-day free trial by providing my name and email address. Soon after this information was submitted, I received an email with the activation key.
Believe me or not, after the malware removal with the 14-day free trial version of Loaris, my PC got as fast and clean as when I first started using it.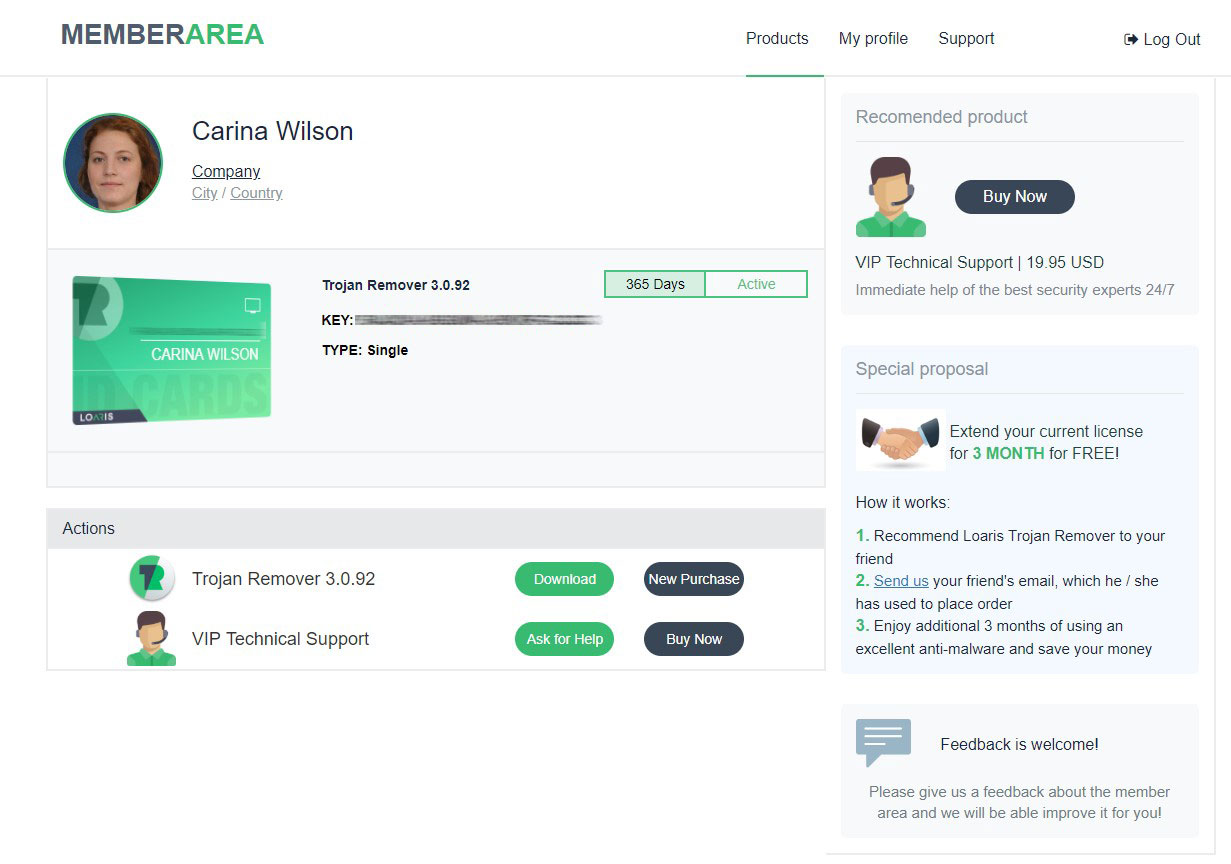 However, I decided to buy the full version for 1 year
I had to restart the system after removing the infections, and then another message came up about the need to reset my browser settings.
I found the following options in the "Tools" menu:
Reset Browser Settings;
Reset Windows HOSTs file;
Reset Windows Update Policies;
Collect system information.
I used the first three tools, then checked all my available browsers. I carefully analyzed how my browser worked within 1 hour and did not find any suspicious pop-ups or redirections that bothered me before. The "Settings" menu gave me some other additional options to try.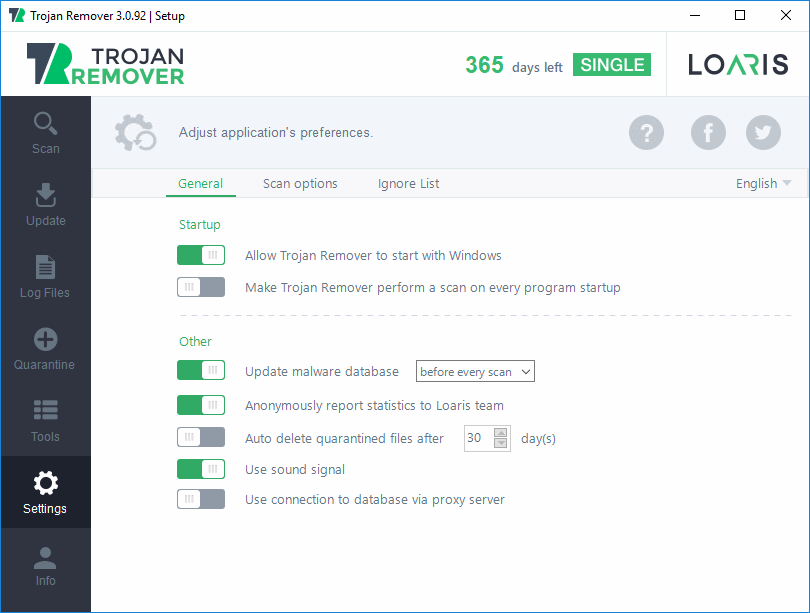 I specifically liked the option to "Make Trojan Remover perform a scan on every program startup" because this option is not enabled by default. I could also uncheck the possibility of starting Loaris with Windows, but I decided to keep it active. The program has got a very nice-looking interface, very simple-to-use.
I like its sound signals while checking the menu and the program settings, however, being quite frank with you, the sound of new malware found during the scan was very frustrating and made my pants wet a couple of times :-).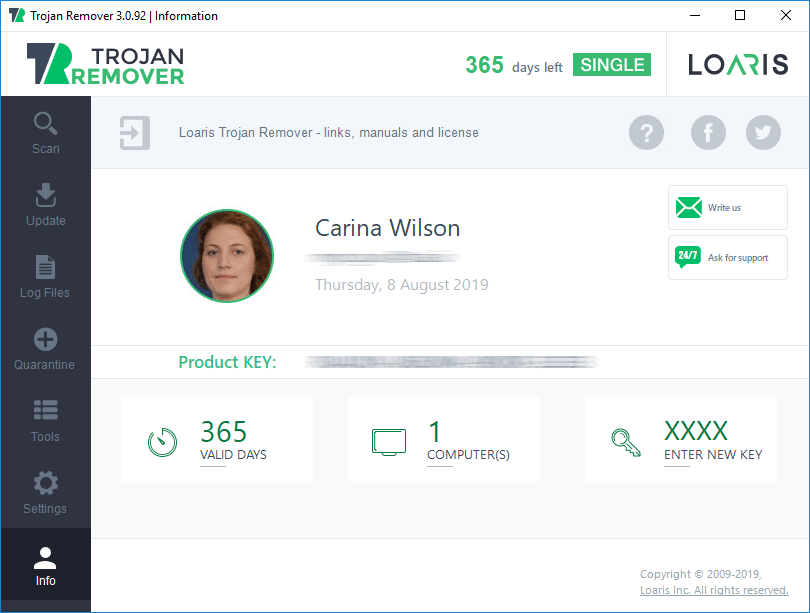 The "Info" tab reminded me how many days of the free trial period I still have and gave me a chance to get in touch with the support team for assistance. Well, I did not have any specific need for help. Loaris did a Trojan Remover great job restoring my computer and browsers, so I was very pleased with it.
I only used the "Write us" button to express what positive emotions I feel about the software. I recommend evaluating this program that renders the full 14-day free trial period without any restrictions.