Purpose of Windows Safe Mode: what is it and when to apply it
W
indows Safe Mode stands for a diagnostic Windows environment that launches the operating system only with the most important services, applications and drivers. Starting in this mode is a typical milestone before troubleshooting security-related issues, deleting viruses, fixing errors and other troubles.
Starting Windows in Safe Mode launches the operating system with a limited set of applications, drivers and services. In case the error does not happen in the secure mode, it means that the issue is not caused by default Windows applications, devices or parameters. Based on this fact, starting in this mode is often used when repairing typical errors such as Your PC ran into a problem and needs to restart or Video_Scheduler_Internal_Error.
Previously, the most common solution to boot the PC in this mode was clicking the F8 key several times during system boot, but that is not the solution today. Hence, it is vitally important to learn the best tips to launch Windows in Safe Mode on Toshiba, Compaq and other PCs.
The mode is possible in several options, and each one is applied to solve different issues, each mentioned below.
Safe Mode. Starts the PC with key drivers and services.
Safe Mode with Networking. Launches the device with key drivers and services and adds those essential for Internet connection to function. It is extremely helpful when you think you'll require a troubleshooter or Internet access to download necessary data or updates.
Safe Mode with Command Prompt. This soltuion turns out to be handy when the taskbar, Desktop or Start menu fail to load at all.
There are many solutions to boot Windows in the aforementioned mode. Still, options for various versions of the Windows operating system are slightly different. Hence, we offer considering guidelines prepared specifically for your Microsoft Windows version (7/Vista/XP, Windows 8 & 8.1, Windows 10).
Solutions to Boot Windows in Safe Mode
Solution 1. Apply F8 key in Windows XP/Vista/7
If you are running one of these older versions of Windows, then your method includes using the well-known old F8 key.
Press the power button to turn on your computer. Immediately keep pressing the F8 key within 1-second intervals. Keep hitting the key several times. Wait until your PC displays hardware data and launches a memory test. Then you will encounter the Advanced Boot Options menu on your computer.
At this point, you will need to use arrow keys on your keyboard for proper navigation. Select to boot Windows in Safe Mode (basic, with Networking or with Command prompt). Hit Enter to confirm your selection.
Wait until the operating system boots. Complete your tasks in the described PC mode, and then get back to the normal mode, repeat steps 1-3 but select Start Windows Normally in this case. Hit Enter to confirm your selection.
Note. You can also use  Shift+F8 keys altogether. Keep hitting them both down altogther as explained above.
Solution 2. Apply System Configuration panel in Windows 7/8/10
T
his solution rests on the System Configuration panel, and it loads into your selected mode as long as you make your decision not to. It works for Windows 7, 8 & 10. This is also the simplest solution to boot Windows 10 into Safe Mode.
To start System Configuration panel, hit Windows key + R, then in the Run prompt type msconfig, hit Enter then.
Navigate to the Boot tab and then examine the Boot options. Select the  Safe boot and then select the method you require.

Minimal one simply boots into Safe mode;
Alternate shell boots into mode with Command Prompt;
Active Directory repair boots into a mode that allows repairing Active Directory server;
Network boots into mode with Networking.

After choosing the mode, select Apply and OK.
You will be asked to reboot the PC. Click Restart to confirm your selection. The PC now boots into the mode you chose. Whenever you want to exit the safe mode and get back to the normal one, repeat milestones 1-4, but make sure you disable the Safe Mode option in System Configuration > Boot tab.
Solution 3. Access the troubleshooting tools
I
f you are searching for a solution to get to Safe Mode in Windows 10 and 8, then you should consider the solutions set forth below. Firstly, select a solution to get to the troubleshooting tools – it depends whether you can load the operating system or not. The tutorial set forth below reviews both solutions.
Solution 3.1. Opening the troubleshooting tools
In case your PC loads normally, try to launch it in Safe Mode (Windows 8 or 10) without F8.
All you should do is to turn your PC on and press Restart while holding the Shift key. You can locate Restart button in the login screen or the Windows menu (depicted below).
Another solution to access the secure mode is through Windows Settings. Press Windows + I key simultaneously; this reveals the Settings window. At this point, locate an option named Update and Security, and choose it. Then, go to Recovery tab. You will encounter Advanced Startup panel, choose Restart Now below it.
However, if your PC does not load properly at all, you must try one of the following solutions.
In case you are having issues launching the operating system, try loading from a USB recovery drive. You can make one using another workstation. You can also try the solution with an F8 key, but it does not function in all instances – it depends on your PC brand. Whatever method you access the recovery mode, it will let you boot Windows in Safe Mode.
Solution 3.2. Applying the troubleshooting options
Solutions set forth previously will give you access to a special menu where you can select from rendered troubleshooting tools. In this area, choose Troubleshoot, then Advanced options. Then, choose Startup Settings (or Windows Startup Settings). Afterwards, select the Restart button. At this point, select one from F1-F9 buttons, depending on what you intend to do (for example, F4, F5 or F6).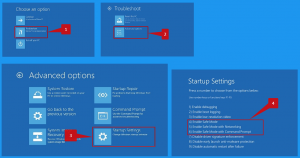 Do not get messed up if after restart your PC shows a black screen with the same options – apply arrow keys to select the right version of Safe Mode, and simply hit Enter to proceed.
Solution 4. Force entering Automatic Repair mode in Windows 10
I
nterrupting common Windows startup three times consequently reveals Automatic Repair mode. You can select this mode to start Windows 10 in
Safe Mode
while loading. To launch the Automatic Repair one, you need to interrupt common Windows 10 startup three repeated times. Adhere to the below-mentioned tutorial carefully.
To interrupt the loading procedure, apply Power or Reset button. In case you select the Power button, you should keep it pressed within at least 4 seconds to force turn down. Then switch on the PC, force shut down again. You should power on – force shutdown (interrupt the startup) three times repeatedly.
You will discover that Windows is attempting to access Automatic repair mode when it shows "Preparing Automatic Repair" on the screen.
You may be asked to select the user account. Select the one with admin's rights, and provide the password for it.
Wait until Windows starts. When asked whether you want to reboot or enter Advanced options, select the second option.
Follow guidelines set forth in Method 3.2.
In case you are using Windows 10 and you are experiencing issues with blank device's screen, we recommend checking recommendations mentioned in official Microsoft's website.