Deceptive Site Ahead alert prevents you from accessing dangerous pages
D
eceptive Site Ahead is a warning notification from web browsers that notifies the user about feasible dangers on the requested website. This measure helps to save the user from phishing or dangerous content on a specific web page. The detection of unsafe resources is switched on by default. There are several specific versions of such "shield" warning alert, hence, in case you try to visit a potentially dangerous resource, you can face one of the following notifications.
"…, I am getting a "Deceptive site ahead" every time I try to access Clickup.", — writes Twitter user @davinjk.
In case you are a WordPress site owner and your site shows Deceptive Site ahead to your visitors, perform the measures immediately to delete malware from your web page. It could have been infected by malware on your PC or breached by means of security vulnerabilities that weren't fixed appropriately or timely. We'll explain how to have your WP site unblacklisted by Google eventually.
Examples of warnings
The site ahead contains malware.
The site ahead contains harmful programs.
This page is trying to load scripts from unauthenticated sources.
Continue to [website name]?
Deceptive Site Ahead.
Deceptive Website Warning.
The "Deceptive Site Ahead" alert prevents the loading of web page information to warn you that they're potentially unsafe. No matter if you're the customer of Google Chrome, Mozilla Firefox, Safari or Edge, you can face these types of alerts.
Even if you were about to visit a fully legitimate page, note that such warning may have prevented you from a PC infection or data theft since hackers can damage almost every page if it has got certain flaws.
Thus, if you are searching for an answer whether encountering "Deceptive Site Ahead" alert means you're contaminated, then no, you are not. Still, if you go ahead to the blocked resource, you might get contaminated then.
Furthermore, people often get this alert when trying to visit gaming, free torrent downloads and adult-only resources as these often have dangerous files or trigger pop-ups redirecting to unreliable and possibly dangerous resources.
Read also: "Your Account Was Hacked!" – Email Scam
In brief, be alerted if you decide to visit these sorts of websites and make sure you have a reliable antivirus program with real-time defense feature enabled, as even one casual click can forward to a malware threat.
Deceptive Site Ahead in website: data for webmasters
Deceptive Site Ahead check might come up on your website in case it was damaged in a specific manner. You could have uploaded a file to the system from a contaminated PC. Furthermore, your website's technical settings could have contained flaws and as a consequence, it was hacked by cybercriminals. Normally, these techniques are applied to exploit websites for possible malware promotion.
Hence, in case your visitors encounter Deceptive Site Ahead in website on Chrome or Firefox, you should fix it ASAP by cleaning your web page from infections. You can do it personally or apply paid services to perform it for you. After fixing your page, you'll have to ask for a Google review.
Be aware of scams showing a faulty alert
S
pecific scammers tend to steal the design of
Deceptive Site Ahead
alert and use it to force customers into calling fraudulent tech support. Hence, if you have wrongfully visited such notifications with faulty messages, DO NOT CALL the "toll-free" number shown on the desktop. Check this 
article from Microsoft about tech support scams
 to learn more.
Initially, these number is obviously not a toll-free one; what is more, the so-called "support" at the other end will attempt to use your lack of PC knowledge and skills and trick you into believing that you require a certain expensive application to repair non-existent PC issues.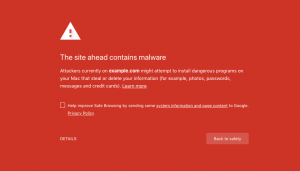 Furthermore, if you saw that your browser forwards you to such pages, try following the tutorial below this article to delete any related adware or browser hijackers that forward you to Deceptive Site Ahead alerts.
Bypass the Deceptive Site Ahead alert
I
f you definitely would like to visit a certain webpage AND you are confident that it won't compromise your information or PC system, you can visit the aforesaid page quite easily. All you should do is:
Select Details;
Select Visit this unsafe site.
Take time until the page comes up and expect that you won't get contaminated.
How to delete Deceptive Site Ahead alert in Chrome or Firefox
Y
ou can switch off safe browsing settings in your browsers, even though this is a NOT RECOMMENDED option. If you make the decision to do so, we suggest to only apply this measure temporarily and afterwards switch the Firefox browser defense page back on. The Deceptive Site Ahead elimination tutorial for Chrome and Firefox are given below.
Switch off safe browsing in Chrome
Launch Chrome and specify chrome://settings into the URL bar. Hit Enter.
Afterwards, click on Sync and Google services.
Now go down and locate Other Google services. Under it, you need to locate the Safe Browsing option. Switch it off by clicking on the on/off switch. That's done.
Switch off Deceptive Site Ahead alerts in Firefox
Launch Firefox and then click on the three bars in the top right area.
Choose Options.
In Options, choose Privacy & Security.
Scroll down to the Security area. At this point, deselect one or all provided options (the ones you would not like to get an alert for).
SUSPICIOUS ADWARE OR BROWSER HIJACKERS ELIMINATION GUIDE
T
o delete the unwanted application from your device, follow these steps below to get rid of associated applications or programs from your Windows or Mac device. Then scroll down for guidelines on how to clean specifically modified web browser one at a time.
DELETE SUSPICIOUS ADWARE OR BROWSER HIJACKERS FROM WINDOWS
Windows 10/8.1/8 users
Refer to the Windows logo to launch Windows menu. In search, specify control panel and choose the matching result. Then refer to Programs and Features.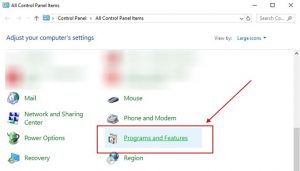 Windows 7 customers
First, start Windows menu by clicking on the icon in the lower left area of the desktop. Aftewards, refer to Control Panel and locate section named Programs. Click on the Uninstall a program option under it.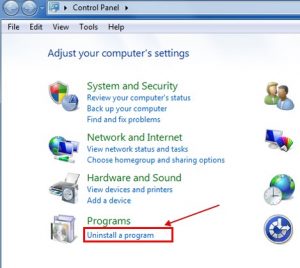 Uninstall unwanted programs
As soon as you are in Apps and Features, search through the list of the installed applications. You may click on Installed on tab to sort the applications based on their installation date.
Right-click on suspicious application you can't remember installing and select Uninstall. Follow guidelines rendered by the Uninstall Wizard, select Next and eventually Finish to remove the unwanted applications from your device.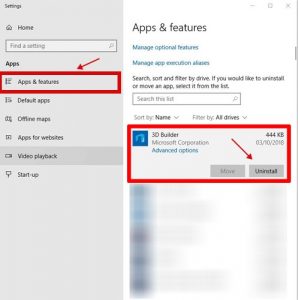 DELETE SUSPICIOUS ADWARE OR BROWSER HIJACKERS FROM GOOGLE CHROME
Get rid of dubious Chrome extensions
Start Chrome and specify chrome://extensions into address bar and hit Enter.
At this point, search for dubious extensions, and Remove them.
You also need to confirm by pressing Remove in the confirmation alert.
Amend Start Page paremeters
In Chrome address bar, specify chrome://settings and hit Enter.
Scroll down to the On startup area. Look for dubious extensions in charge of these parameters, and Disable them.
Furthermore, you can establish browser to Open a specific page or set of pages via these parameters. Simply select this parameter, click Add a new page, provide your preferred URL (f.e. www.google.com) and select Add.
Amend default search parameters
In Chrome URL bar, type chrome://settings/searchEngines and hit Enter. Make sure you specify searchEngines, not searchengines. Furthermore, you can switch to chrome://settings and locate Manage search engines option.
Initially, look at the list of search engines and locate the one you would like to specify as the default one. Click the three dots next to it and choose Make Default.
Furthermore, browse via the list and delete dubious entries. Right-click the three dots and choose Remove from the list. 
Resetting Google Chrome browser
The final step is to reset Google Chrome. Specify chrome://settings in the URL bar, hit Enter  and then browse down until you notice Advanced parameter. Click it and scroll to the bottom of the parameters.
Click Restore settings to their original defaults.
Click Restore settings to confirm.
DELETE SUSPICIOUS ADWARE OR BROWSER HIJACKERS FROM MOZILLA FIREFOX
Delete unwanted add-ons from Firefox
Start Firefox and specify about:addons in the URL bar. Hit Enter.
At this point, click on Extensions (in the left area).
Click Remove close to every suspicious browser extension that you can't remember enabling.
Amend Firefox Homepage
In Firefox address bar, provide about:preferences and press Enter.
Look at the left area and click the Home tab.
At this point, get rid of the suspicious URL and type or paste in the URL of a page you'd like to append as your homepage.
Modify preferences in Firefox
Type about:config in Firefox address bar and press Enter.
Click I accept the risk! to proceed.
At this point, type in the URL which has taken over your browser without your consent. Right-click each value that has it and select Reset.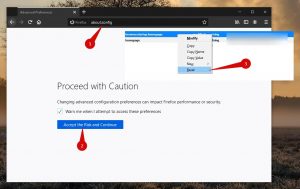 Reset Mozilla Firefox
In Firefox, specify about:support in the address bar and hit Enter.
Click on Refresh Firefox…
Click Refresh Firefox again for confirmation.
DELETE DUBIOUS ADWARE OR BROWSER HIJACKERS FROM MICROSOFT EDGE
Delete dubious extensions:
Start MS Edge browser and click on the three dots button in the top right area, then select Extensions.
Surf via the list of enabled extensions and locate the ones you can't remember directly enabling or simply suspicious-looking ones. Right-click on them and select Uninstall. Then confirm by hitting Uninstall again.
Amend MS Edge Start Page and default search engine:
Click on the three dots once again and proceed to Settings. Initially, make sure that you select to Open Microsoft Edge with A specific page or pages paramter. Then click the X next to dubious URLs and type in the one you want to append as your homepage. Click the Save icon for confirmation.
Click on the three dots > Settings. Scroll down and click on Show Advanced Settings. Then browse down until you locate Change search engine button. Click on it. At this point, choose the search engine you would like to use and click Set as default.
Furthermore, we suggest choosing and Removing dubious search engines.
Clearing browsing data:
Click on the three dots in the top right area again and choose Settings. Locate Privacy & security section and click Choose what to clear button.
In the following window, choose all options and select Clear.