Seeing the Drinker app running on your PC is a bad sign. This application is classified as adware and constantly shows the users various advertisements.
The presence of malware on the device always leads to several problems. If your PC has a lot of annoying advertising, it's time to pay attention to this and take appropriate measures. In this article, we consider Drinker Adware, which cannot only throw your browser a bunch of pages with advertising but also cause data leakage.
What is a Drinker App?
Drinker Adware is an application to remind the user to drink water. But in addition to this feature, it can open many browser pages filled with useless advertising. This way, they clog your screen with banners, pop-up windows, and other annoying stuff.
As both Healthy and Strength Adware, Drinker Adware uses third-party IP addresses from the United States. This means they are not attached to the application publisher or developer. Thus, the attacker likely collects information from the user's device at the application's expense and transfers it to third parties. Such information may include anything that constitutes the victim's identity, financial or other data. Also, the application has a dubious behavior, which may be an obfuscation attempt. Still, the hacker will not be able to carry out a large-scale cyber attack, but creating a digital trail of the victim is entirely possible.
Is Drinker Adware dangerous?
Adware rarely resembles an evil predator capable of capturing a custom PC, destroying data, and posing a severe cyber threat. Instead, it is an annoying program that only prevents and does not allow you to do your business on the computer. However, do not forget that all pop-up windows and banners carry fraudulent information and malicious content, which applies to a user's PC when you click on it. In addition, do not forget about third-party IP addresses, due to which data is leaked. So a typical application is potentially dangerous.
How did I get this virus?
The goal of any hacker is to make money, so they come up with different methods of hacking into the user system. They will show you various ads, steal data and then resell it, or spy on you for further blackmailing. It is possible to trace how malware appeared on your PC, even though there are dozens of possible ways of malware distribution.
Social engineering is the main way of the Drinker App injection. Users click on all banners and pop-up ads in the hope of getting what they are offered. But this is a big mistake, as the attackers deliberately deceive their victims. As the offered plugin or an urgent update to the browser, the mentioned adware comes on your device. The conclusion is simple – don't believe every little thing you see online.
Hacked apps, torrent trackers, and other sources it's also good breeding grounds for infection. They are good because they are free, so users download them one by one. But all of these free apps are paid only without a license check. So it is better not to install them.
How to remove the Drinker App from my PC?
Before healing your PC in any of the offered ways, it is important to remember what we were talking about above. You should understand the basic rules of using the PC and the Internet. If something is too good to be true, it is likely not true. That way, you won't give the hacker a chance to trigger his plan.
Moreover, you need to install strong protection against malware. We offer you Loaris Trojan Remover, developed to combat such programs as Drinker Adware and others. Installing this protection will not take much time; it will constantly update and monitor everything on your PC. So you don't have to worry about accidentally downloading a malicious application or visiting a malicious link or attachment.
Scan for Drinker Adware with Loaris Trojan Remover
1. Click on the "Download" button to proceed to Loaris Trojan Remover download.
It is recommended to run a scan before purchasing the full version of the software to make sure that the current version of the malware can be detected by Trojan Remover. Click on the corresponding links to check License Agreement, Privacy Policy.
2. Click "Install" to start.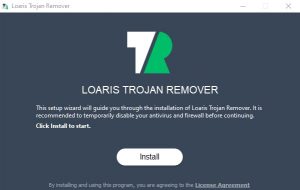 There were 4 scan types suggested:
Standard Scan.
Full Scan.
Custom Scan.
Removable Scan.
3. After the installed has finished, click on the 'Scan' tab. Click on 'Full Scan'.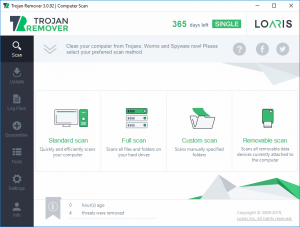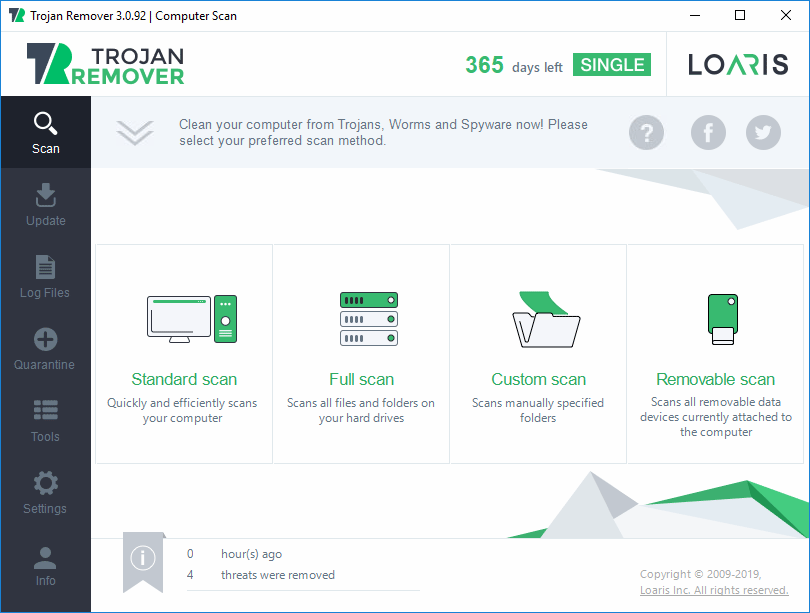 4. Once you started the scan, Loaris will initiate a thorough analysis of your device and may soon identify specific threats currently slowing down the performance of your system. Make sure to wait until the scanning is completed to let the software fully evaluate the safety of your workstation.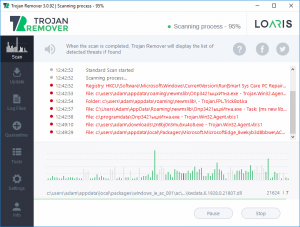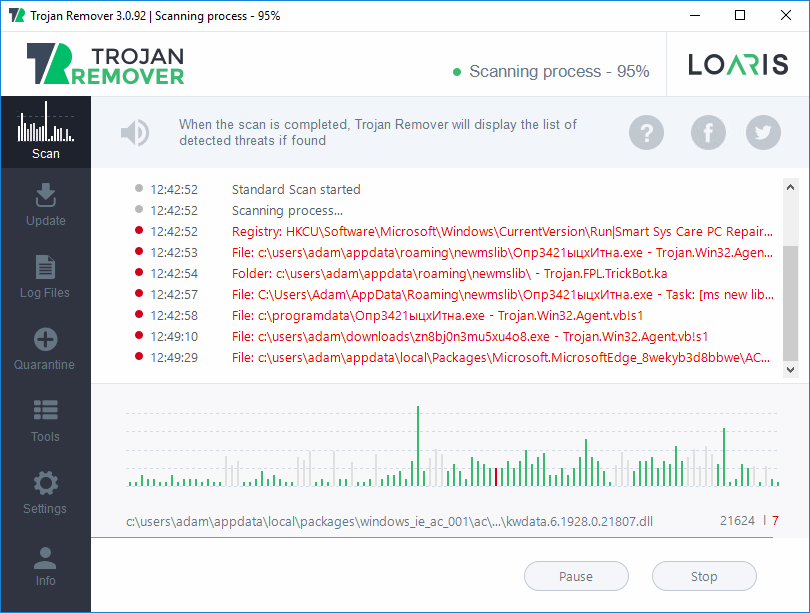 5. After Loaris Trojan Remover has finished scanning your PC for any files of the associated threat and found them, you can try to get them removed automatically and permanently by clicking on the 'Apply' button. There were options to move the files to quarantine, ignore or delete them.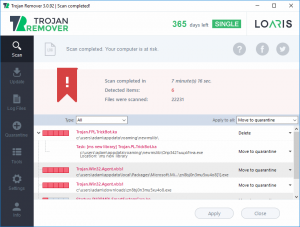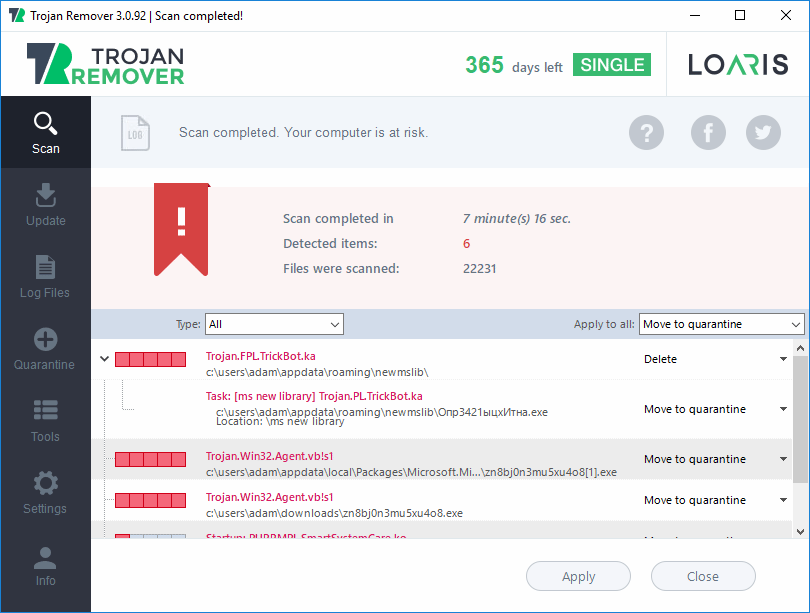 If any threats have been removed, it is highly recommended to restart your PC.