Every user of the Internet probably faces the problem of unwanted ads. This is not just a very annoying thing, but sometimes even malicious. Imidlertid, not each user knows that such banners on your screen can signal possible data leaks. To learn more about this and understand how not to become a victim of advertising software, read the article presented.
What is a Strength App by Strength Tech

?

Strength Adware is an example of malicious advertising software. This infection can not only penetrate the user's system but also steal his confidential data. Like other advertising software, det floods your system with annoying pop-up windows and poor and irrelevant banners with a dubious character. Ud over, this program has some long-going effects that will not be pleasant for the user.

Сurrently, over 20 vendors on VirusTotal claim that Strength Adware is malicious advertising software. Moreover, this program binds to two IP addresses, which are not related to the program's developer. Even if they are needed to send telemetrics to the developer – there is no warning and/or offer for the user. This fact can only indicate that all the malicious content on the users' devices can contribute to data leakage with the OS on which it lives.
Is Strength Adware dangerous

?

If we talk about the danger of advertising software, it does not provide it as such; it is more annoying and interferes. A large amount of advertising loads your CPU and RAM, which is why your system can freeze. For some weak devices, these ads can cause the blocking of system functions by consuming all possible hardware resources.

The next thing to consider is the theft of your confidential information. Yes, the more time Strength Adware functions on your PC, the more data it can collect about your activity and yourself. With your data, an attacker can quickly counterfeit your identity. In the future, it may cost you lose your card details, finances, and so on.
Strength Adware spreading
Advertising software can be distributed in many different ways. But we're going to talk about conventional forms of spreading now. To begin with, Strength Adware cleverly penetrates the user's device under the guise of a helpful application that supposedly cares about the physical condition of its victim. The functionality of this adware provides reminders of the interruption and the need for time for exercise. At least, that's what the promotions say about this program.
Social engineering is the other way to spread this disease. Fraudsters may trick the user to install this app under the guise of something urgent, like an update for its browser or the add-on. And because of all these reasons, advertising software safely gets on the user's PC, where it begins to perform its activity. Such a scheme is very old but not obsolete.
How to remove the Strength App

?

You have read the above information about the harm and consequences of Strength Adware, after which you probably understand that the best thing you can do is to prevent yourself and your device from doing so. Therefore, we invite you to take advantage of Loaris Trojan Remover, which will become your excellent defender of intruders and their threats. This antivirus software will not only remove possibly existing malware but also provide additional levels of protection against potential threats and attacks.

Scan for Strength Adware with Loaris Trojan Remover

1. Klik på "Hent" knappen for at fortsætte til download af Loaris Trojan Remover.

It is recommended to run a scan before purchasing the full software version to make sure that Loaris Trojan Remover can detect the current malware version. Click on the corresponding links to check Loaris Trojan Remover Licensaftale, Fortrolighedspolitik .

2. Klik "Installere" at begynde.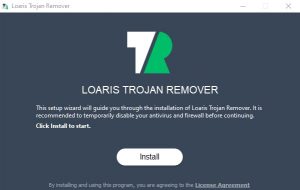 Der var 4 scanningstyper foreslået:
Standard scanning.
Fuld scanning.
Brugerdefineret scanning.
Aftagelig scanning.
3. Efter at den installerede er færdig, klik på 'Scan' fanen. Klik på 'Fuld scanning'.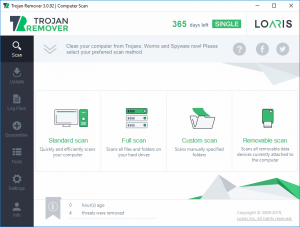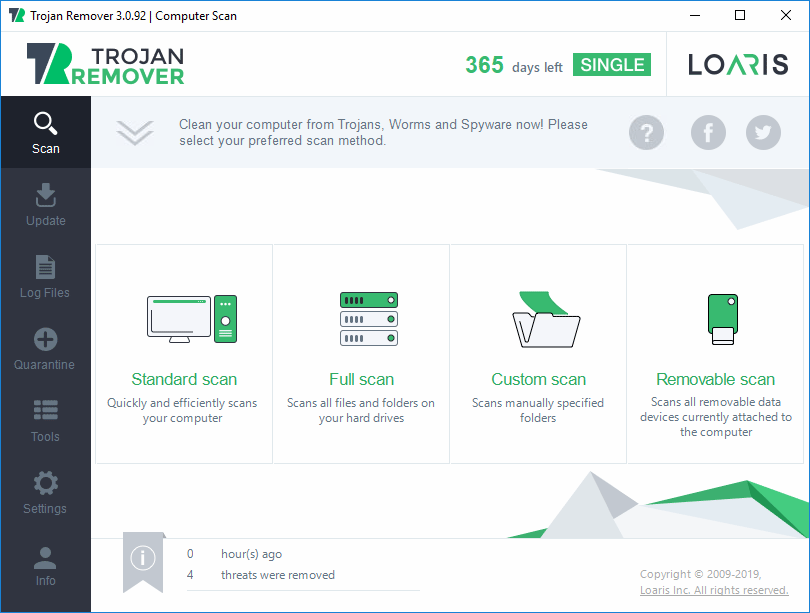 4. Når scanningen er startet, Loaris will initiate a thorough analysis of your device and may soon identify specific threats currently slowing down the performance of your system. Sørg for at vente, indtil scanningen er fuldført, for at lade softwaren fuldt ud evaluere sikkerheden på din arbejdsstation.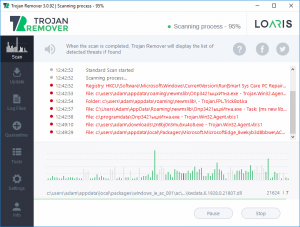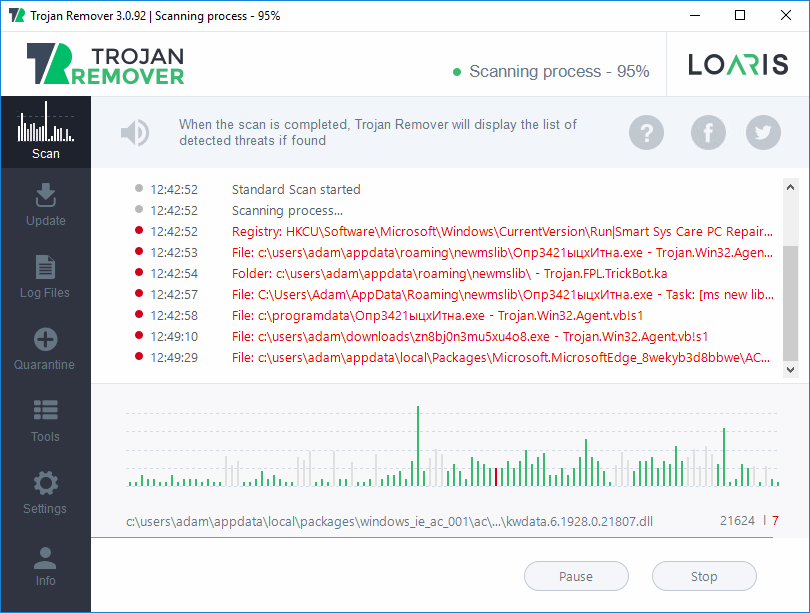 5. Efter at Loaris Trojan Remover er færdig med at scanne din pc for filer med den tilknyttede trussel og fundet dem, du kan prøve at få dem fjernet automatisk og permanent ved at klikke på 'Ansøge' knap. Der var muligheder for at flytte filerne i karantæne, ignorere eller slette dem.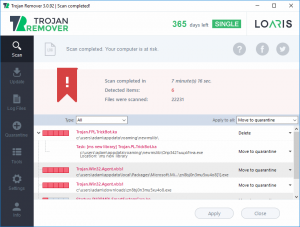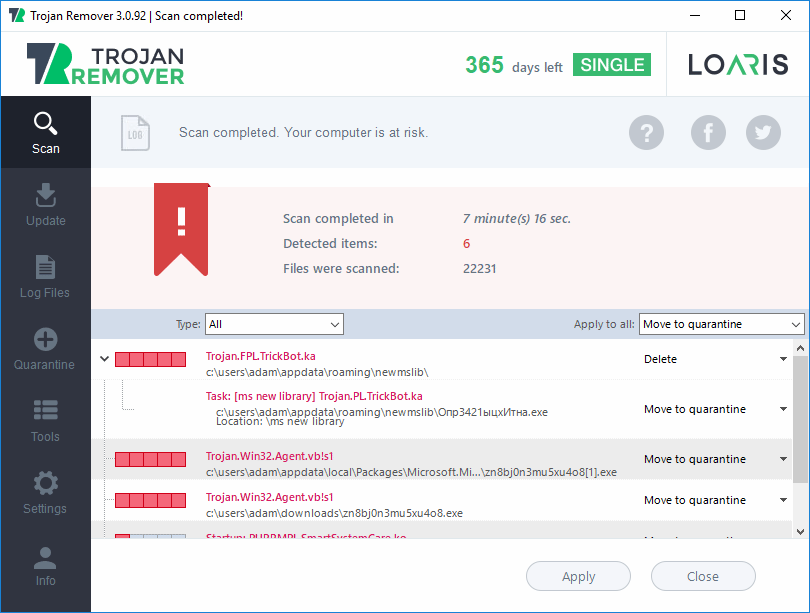 Hvis nogen trusler er blevet fjernet, det kan varmt anbefales at genstart din pc.